Lodovica Guidarelli, M.S. MFTI
Registered MFT Intern
A note from Lodovica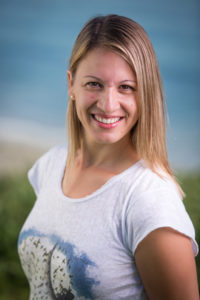 Hello and thank you for visiting my page. I would like to use this space to share some of the ideas and experiences that shape my clinical work. As I enter the room, I bring my backpack of interwoven personal, professional, and relational experiences that shape my conversations with you.
I am an Italian immigrant; professor of Italian language, literature, and culture; and I belong to an international community of friends and colleagues. I hold a Ph.D. In Italian, and I have held different academic positions in several institutions, including UCSD, USD, Colby College, CU-Boulder, and San Diego Mesa College. I am truly passionate about working with students, and I treasure the opportunity to support their personal, relational, and academic growth. As a reflection of my commitment to foster a culture of inclusion and equality, I co-facilitate Safe Zones Allies workshops for faculty and students.
I received my M.S. in Marriage and Family Therapy in 2013 and began my clinical training as a multiculturally competent counselor at the Center for Community Counseling and Engagement (CCCE), in City Heights. At CCCE, I had the privilege to work with a diverse population and on a wide variety of issues, including stress, anxiety, depression, sexual identity and orientation, religion, spirituality, life transitions, as well as migration and acculturation. I have worked with couples, children, and families, both in a clinical and in-home setting, as well as in collaboration with the local schools. I treasure working on diversity issues, and as an active participant in the Italo-American community of San Diego, I cherish the opportunity to support the well-being of its members.
My clinical work and my experience as a mom are the contexts in which I have developed the desire to support individuals and couples who are facing infertility, pregnancy, post-partum, or parenting challenges. Some of the dominant discourses surrounding these issues tend to exacerbate the problems and feed a sense of inadequacy and isolation. I support my clients to detangle the complexities that such circumstances entail so as to bring clarity and a sense of agency. I also co-facilitate parenting groups to foster community support around these challenges.
In my practice, I strive to create a space that allows you to gain novel and empowering insights into your story. I integrate techniques and ideas from a variety of theoretical orientations such as narrative therapy, solution-focused, and collaborative therapy. They all share a strength-based and culturally-sensitive approach. In my work with children, I privilege playful practices in order tostrengthen family bonds and access children's untapped skills and problem-solving abilities.