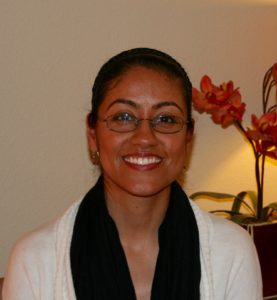 Rosa Montoya, M.S., IMFT
MFT Registered Intern #71236
Rosa is a bilingual MFT Registered Intern, supervised by Dr. Jan Ewing, LMFT, who works with both English and Spanish-speaking clients. In addition to providing therapy at NISD for $50/session, she facilitates several therapeutic groups in both school and medical settings through her work with Survivors of Torture and UCSD. She obtained her Master's degree at San Diego State University in 2012 and completed several years of clinical training at the SDSU's Center for Community Counseling and Engagement prior to joining NISD. Rosa is also a vital member of the Triage Team helping connect clients to our services.
---
A message from Rosa:
Hello and welcome to my page.  I thank you for your interest in reading this description.
I see therapy as one of many supportive contexts that offer an opportunity to reflect on our lives.  Within this context, we can bring clarity not only to the problems we face, but also to our search for solutions.  I believe that we all have values, knowledge, and skills that are never too far from us even in the most challenging of circumstances.  These can often be overlooked in the stories that we, or others, tell about our lives.  I am interested in collaborating with you in a respectful way that privileges your voice and your preferences for life.  I am also interested in understanding the unique ways in which you make meaning of your identity, your concerns, and the different aspects of your life.  I view my role as helping to put things in their place so that you may feel that you can take action in ways that fit for you.  This feels important because I believe this has implications for our health and our relationships.
As a person who is bilingual and bicultural, I have an interest in working with diverse communities, bringing a cross-cultural and social justice lens to my work.  I have had the privilege of previously working at a community-based clinic in City Heights.  It was here that I had the opportunity to provide clinic-based and in-home services to clients from diverse backgrounds; as well as in collaboration with the local schools.  Currently I see individuals, couples, and families in a private practice setting.   In addition, I assist in providing support group services to couples experiencing Parkinson's disease in a university medical research setting.  I am also contracted with a local non-profit organization to support clients from many different countries that have experienced political torture.
Examples of topics that may be discussed in therapy include: life stressors, life transitions, physical health concerns, relationship difficulties, spirituality, issues of acculturation, and the role that cultural systems play. Some of my areas of interest include:
Anxiety/Depression
Relationship conflict
Trauma recovery
Migration and acculturation
Gender and Identity
Family dynamics
I was born in Mexico, and moved with my family to the United States at a very young age.  It is important to me that I continue to maintain ties to my native country.  When I'm not working, I enjoy spending time with my family and friends, experiencing new foods, and checking out all the wonderful sights that San Diego has to offer.  Whenever the opportunity presents itself, I also enjoy traveling to visit loved ones or exploring new parts of the world.
I look forward to a conversation with you if you think I may be of some help.  I can also help to connect you with services that may be a better fit for your situation.  I wish you all the best in every moment of your life's journey.
---
Saludos y bienvenidos a mi página.  Le agradezco su interés en leer esta descripción.  Yo soy pasante de terapia familiar bajo la supervisión directa de la Dra. Jan Ewing, y actualmente estoy en el proceso de completar los requisitos para obtener la licencia.
Considero que la terapia es uno de muchos contextos de apoyo que ofrecen una oportunidad para reflexionar sobre nuestras vidas.  En este contexto, se pueden clarificar no sólo los problemas que enfrentamos, sino también la búsqueda de soluciones.  Creo que todos tenemos valores, conocimiento, y habilidades que nunca están muy lejos de nosotros aun en los momentos más difíciles de la vida.  Frecuentemente, estos son ignorados dentro de las historias que nosotros contamos, y que se cuentan, acerca de nuestras vidas.  Estoy interesada en colaborar con usted de una manera respetuosa que honra su voz y sus preferencias para su vida.  También me interesa entender las maneras únicas en que usted le da sentido a su identidad, las dificultades que enfrenta, y los diferentes aspectos de su vida.  Yo veo mi rol como una de ayudar a poner las cosas en su lugar para que usted pueda tomar acción de las maneras que encajen mejor con usted.  Me parece importante ya que creo que esto tiene implicaciones para nuestra salud y nuestras relaciones.
Como persona bilingüe y bicultural, tengo interés en trabajar con comunidades diversas, desde una perspectiva intercultural y de justicia social.  He tenido el privilegio de antes trabajar en una clínica basada en la comunidad en el área de City Heights.  Fue aquí que tuve la oportunidad de proveer servicios a clientes diversos en oficina, a domicilio, y en colaboración con las escuelas locales.  Actualmente trabajo con individuos, parejas y familias en una práctica privada.  Además, asisto con proveer servicios de grupo de apoyo para parejas experimentando la enfermedad de Parkinson, en un ambiente universitario de investigación médica.  También estoy bajo contrato con una organización local sin fines de lucro para brindar apoyo a clientes de diferentes países que han sido afectadas por la tortura política.
Ejemplos de temas que se pueden tratar en la terapia incluyen: acontecimientos vitales estresantes, transiciones de vida, cambios en su salud física, dificultades relacionales, la espiritualidad, problemas de aculturación, y el rol que juegan los sistemas culturales.  Algunas áreas de interés personal incluyen:
Ansiedad/Depresión
Conflicto relacional
Recuperación tras trauma
Migración y aculturación
Género e Identidad
Dinámicas familiares
Yo nací en México, y a una temprana edad mi familia y yo nos mudamos a los Estados Unidos.  Es importante para mí seguir conectada con mi tierra natal.  Cuando no estoy trabajando, disfruto pasar tiempo con mi familia y amigos, experimentar nuevas comidas, y visitar los muchos lugares maravillosos que ofrece San Diego.  Cuando se presenta la oportunidad, también disfruto de viajar para visitar a mis seres queridos o para explorar nuevas partes del mundo.
Espero con interés tener una conversación con usted si cree que yo pueda ser de alguna ayuda.  También puedo asistirle a conectar con servicios que quizás sean más adecuados para su situación.  Le deseo todo lo mejor en cada momento de su camino por la vida.