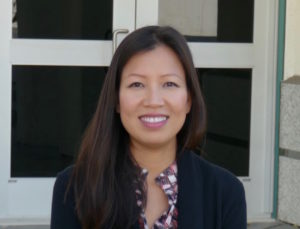 Hoang Lo, M.S., IMFT
MFT Registered Intern #95217

Hoang graduated from SDSU's MFT Graduate Program in 2016 and is working to complete her clinical training as a Registered MFT Intern supervised by Dr. Jan Ewing, LMFT. She provides therapy in English and Vietnamese and sees clients for $50/session. Additionally, she serves on the Triage team scheduling clients.
---
A note from Hoang:
A message to those who are struggling:
Are you experiencing difficulties navigating through a situation? Your struggles can make you experience self-doubt, hopelessness, sadness, and loneliness. Maybe self-doubt and hopelessness have you thinking there is no available support. Maybe sadness and loneliness have you turning away from people instead of reaching out. Maybe you wonder how you might reclaim some sense of stability in your life. I know it can be overwhelming and terrifying. You are not alone, and it would be an honor for me to work with you and provide support for you.
My name is Hoang (pronounced Hoàng, if you speak Vietnamese, or Hong, as in Hong Kong). I was born in Saigon, and I lived there until I was a teenager when my family immigrated to the United States in 1995. Before changing career direction, I worked as an engineer for about 10 years. I earned my Master's Degree in Marriage and Family Therapy (MFT) from San Diego State University in 2016, and I am now working as an intern toward an MFT license.
Relationships are important, and they can have healing powers. I believe that loving and meaningful relationships with ourselves and with others make a difference. I believe that we all have our own ideas and understandings about the ingredients that make relationships meaningful and about our roles in relationships. However, problems arise when cultural and social ideas about relationships overshadow how we might prefer to be in relationships with one another. My hope is to assist clients in making sense of what it means for them to make meaningful connections, to identify their preferences, and to have intentional relationships by providing support, connecting, acknowledging, and seeking to understand. I also hope to work with clients to apply their skills and knowledges in relationships in a sustainable way.
I value learning, growth and contribution. This Narrative community provides the opportunities for me to learn and hone my skills so that I can contribute in a way that I find meaningful.
Thank you for taking the time, and I look forward to talking with you.
Hoang
---
Mỗi người đều gặp khó khăn trong cuộc sống và nhiều khi nó làm mình thấy rất khó để nói chuyện với người khác vì mình sợ sẽ bị người ta đánh giá hoặc hiểu lầm. Những khó khăn của bạn có thể ảnh hưởng đến sức khoẻ tâm thần của
bạn và khiến bạn tự nghi ngờ, tuyệt vọng, buồn bã và cô đơn. Bạn không phải cảm thấy cô đơn trong vấn đề này vì đối với tôi, nói chuyện với bạn và hỗ trợ cho bạn là một vinh dự. Bạn có thể yên tâm là các cuộc đối thoại của chúng ta sẽ được giữ bí mật và sẽ không được chia sẻ nếu không có sự cho phép của bạn.
Xin chào bạn. Tên tôi là Hoàng. Tôi sinh ra ở Sài Gòn, và tôi sống ở đó cho đến khi tôi là một thiếu niên khi gia đình tôi di cư sang Hoa Kỳ năm 1995. Trước khi thay đổi nghề nghiệp, tôi đã là một kỹ sư trong khoảng 10 năm. Tôi đạt được Bằng Master's in Marriage and Family Therapy (MFT) từ San Diego State University năm 2016, và bây giờ tôi đang làm việc với tư cách là một thực tập sinh để lấy bằng MFT license.
Tôi tin rằng sức khoẻ tâm thần của chúng ta rất là quan trọng. Tôi biết những vấn đề về sức khoẻ tâm thần thường không được thảo luận giữa gia đình và bạn bè của chúng ta, và tôi hy vọng được làm người mà bạn có thể tin tưởng và nói chuyện với. Tôi cũng tin rằng sự kết nối của con người rất quan trọng, đặc biệt là trong những thời điểm khó khăn. Hy vọng của tôi là được giúp đỡ bạn có mối quan hệ cố ý với người khác bằng cách hỗ trợ và tìm hiểu bạn một cách tôn trọng. Tôi cũng hy vọng là giúp đỡ bạn để áp dụng các kỹ năng và kiến ​​thức trong các mối quan hệ một cách bền vững.
Cám ơn, và tôi hy vọng sẽ có được cơ hội nói chuyện với bạn.
Hoàng